The Flash is a superhero published by DC Comics. First appearing in Flash Comics #1 (January 1940), the character has the ability to run at super-speeds and bend the laws of physics. The Flash has become one of the publisher's most popular heroes, with the the second iteration being responsible for the start of the Silver Age of Comics. First appearing in the original version of the Superheroes Unlimited mod, the different iterations of the Flash have been gradually added into the mod. The player can craft and wear their suits, giving them access to their powers and abilities.
Backstory
There have been a number of characters who have taken on the identity of the Flash. However, the most popular iterations are Jay Garrick, Barry Allen and Wally West.
Jay Garrick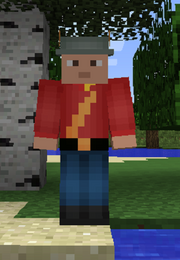 Originating from Earth-2, Jason Garrick was a chemistry student when he first received his powers during an accident in his lab. Gaining the ability to run at super-speeds, he originally used these powers to gain attention at college. However, after saving one of his friends from an assassination attempt, he decided to use his powers to fight crime and protect others. Dubbed "the Flash", Jay would settle down in Keystone City and battle various criminal organizations. He would also mentor the other iterations, lend them advice or help battle criminals when needed.
For more information, see: Flash (Jay Garrick)
Barry Allen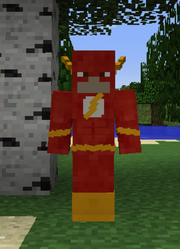 A forensic scientist in Central City, Bartholomew Allen was given his powers when struck with a bolt of lightning and doused in chemicals. Deciding to use his powers for good and to battle criminals the city's police couldn't deal with, he became the second iteration of the Flash. Barry would become arguable to most influential version of the Flash, due to his battles with various supervillains and membership with the Justice League. Though he apparently would die saving the multiverse from the Anti-Monitor, he was actually merged into the Speed Force and would eventually return.
For more information, see: Flash (Barry Allen)
Wally West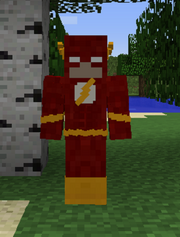 The nephew of reporter Iris West, Wallace West received his powers in an accident similar to Barry Allen's. Taken in as the Flash's sidekick Kid Flash, he would help him battle various foes and was a founding member of the Teen Titans. When his mentor apparently died during the battle with the Anti-Monitor, Wally would take on the role of the Flash to protect the city. As the third iteration of the Flash, he would battle many of Barry's enemies and a number of new rogues.
For more information, see: Flash (Wally West)
In the Mod