Jurassic World: Dominion Dominates Fandom Wikis - The Loop
Play Sound

The Speed Force is a cosmic energy source from DC Comics. First appearing in The Flash (Vol. 2) #91 (June 1994), it allows those who tap into it to run at super-speeds and perform various abilities. Many of DC's speedster characters are connected to the Speed Force, including the different iterations of the Flash. However, generating or tapping into the Speed Force will also create it's negative counterpart, the Negative Speed Force, which is used by various supervillains such as the Reverse-Flash.
In the Mod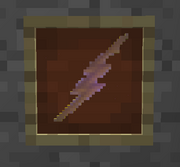 The Speed Force was first added into the Superheroes Unlimited version 4.0. When wearing a DC speedsters' costume, the player will be able to increase their speed (Suit Ability 2 Key), decrease it (Suit Ability 3 Key) and reset it (Suit Ability 3 Key and Shift). Speedsters can also tap into the Speed Force to run up walls (Suit Ability 5 Key) and be able to regenerate injuries they sustain whilst fighting.
The player will also be able to vibrate their molecules (Suit Ability 4 Key), which will allow them to phase through walls (Weapon Equip Key). They can also create vortexes by spinning their arms (Suit Ability 1 Key) and percept the surrounding area at a slower rate than other characters (Utility Ability Key). Whilst running at higher speeds, the player will also be blessed with increased attack damage, due to the increased speed. However, this will decrease as they reduce their speed.
In 5.0, Speed Force Essence was introduced into the mod. It can be crafted in the Suit Assembly Unit and is used to craft the suits of speedster characters.
For more, see: Speed Force Essence.
Characters connected to the Speed Force
The characters connected to the Speed Force are:
Negative Speed Force
Another energy source for speedsters, the Negative Speed Force was created by the Reverse-Flash as a way of channeling the negative energy of the Speed Force. It is commonly used by Reverse-Flashes, including the Professor himself, as a way of keeping their when upon expulsion for the main Speed Force, for malicious deeds. However, as it requires the main Speed Force to work (for every action, there is an equal and opposite reaction), as the abilities it bestows upon other speedsters will also generate the Negative Speed Force. It will also allow the same abilities that speedsters connected to the main Speed Force, allowing them the chance to battle the Flash and his allies.
Like the main Speed Force, the Negative Speed Force also has essence available to players who wish to craft Reverse-Flash suits.
For more information, see Negative Speed Force Essence.
Characters connected to the Negative Speed Force
The characters currently connected to the Negative Speed Force are: